#1 Museum Hack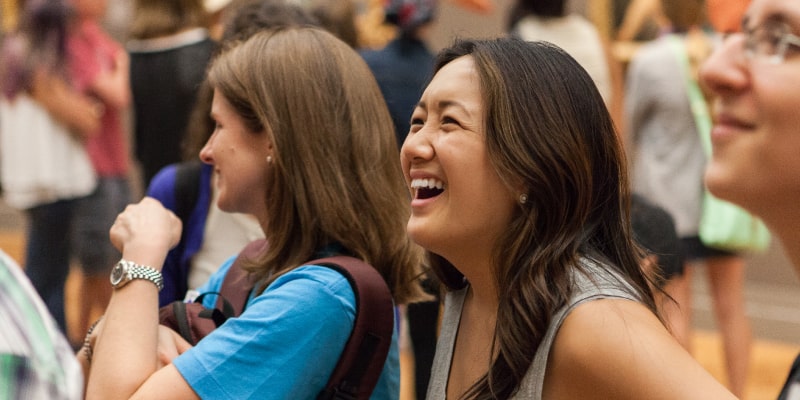 If your team hasn't done a "Museum Hack" yet, then you are missing out. The company does a unique combination of unconventional storytelling with games and activities that are built for team building in NYC. It's fun, wicked-smart and the perfect balance of helping improve your team dynamics without feeling forced. Museum Hack is best known for it's "Renegade Tour" format, and also offers scavenger hunts, storytelling workshops and an Escape the Museum experience. Events are available at museums throughout the city, and work for all group sizes and age demographics. Happy Museum Hack clients include Google, Facebook, KPMG, LEGO, Johnson & Johnson, Chipotle and more.
Learn More: Museum Hack
#2 tiny campfire 🔥 – 100% Remote Team Building Activities
tiny campfire is a great choice for virtual team building activities for remote workers. If you're looking to boost employee engagement and morale, then you've found the perfect activity for your coworkers with tiny campfire. Here's how it works: about a week before your team event, each coworker will receive a happy mail package full of the campout essentials: s'mores ingredients, team color gear, matches, and a wood-scented candle. Then, you'll all head to your virtual campout (head digitally over tiny campfire's web-based browser) where your camp counselor will engage your group with fun games, activities, and competitions, in addition to historically spooky ghost stories and s'mores making! Bonus: No bug spray required.
Learn More: tiny campfire
#3 Gingerbread Wars™
Looking for a fun and competitive corporate event in New York, NY? Gingerbread Wars runs a gingerbread house making competition that is perfect for your next company team building activity. The events are about 1.5 hours long, can be run anywhere in the city, and include prizes, fun photos and more. If you like, you can add options like extra time, gift bags and BYOB to keep the party going.
Learn More: Gingerbread Wars™
#4 The Great Guac Off™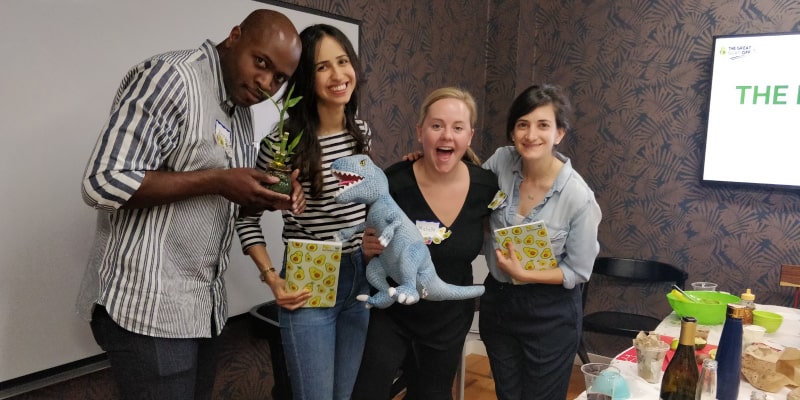 The Great Guac Off runs playful and FUN team building activities in NYC based on a guacamole making competition. Your event starts off with mini games like Punacado and avocado themed trivia, and culminates with the competition. All the guac ingredients, chips and veggies are included, so it's a great option if you want to include food at your event. You can also do add-ons like full catering, drinks, swag bags, trophies and more. One of the best things about the Guac Off is the flexibility of location. The team can come to your office or other space anywhere in New York City at no additional cost, or you can visit a Guac Off location near your office (they have spots around the city). Highly recommended for both small and large groups!
Learn More: The Great Guac Off™
#5 100% Remote Team Building Activities
TeamBuilding.com powers the best remote team building activities you can find. With offerings like the Online Office Games, virtual scavenger hunts, photo challenges, professional development workshops, storytelling seminars, and remote lunch and learns, there's something to suit companies looking for fun and effective virtual team building activities.
Learn More: TeamBuilding.com's Virtual Team Building Activities
#6 Tea vs Coffee – Great Choice for Virtual Team Building Activities for Remote Workers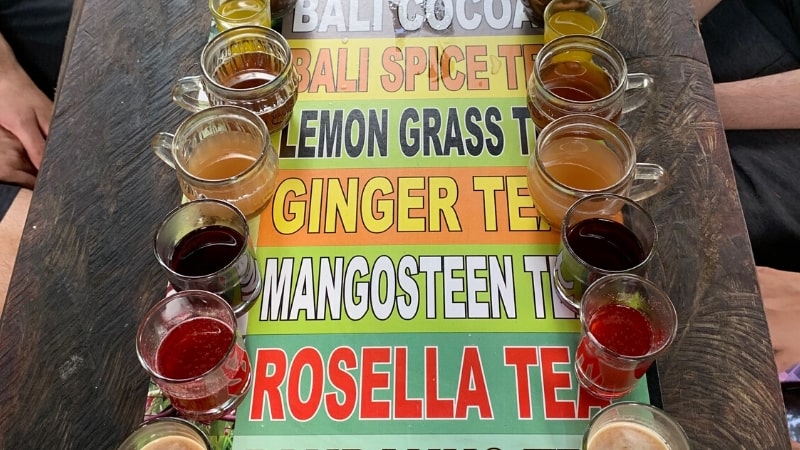 It's the age-old question and it's time to solve it with this 100% remote team building activity – is tea better or is coffee where it's at? In this fun, smart team event, your coworkers will all receive a surprise mystery box in the mail containing four exotic and unexpected tea and coffee samples, all sourced from eco-friendly companies, along with fair-trade chocolate. Once it's time for the main event, your group will log on to a virtual tea tasting room where a pro will guide your group through incredible stories about the drinks, teach a new quick brew method, and talk about flavor profiles and compounds. Your coworkers will love the surprise box in the mail and the fun, relaxed, low-key environment of the virtual tea room.
Learn More: Tea Vs Coffee
# 7 Chelsea Piers
If you are looking for classic team building activities, like bowling and other sports than Chelsea Piers may be a great option for your next corporate event. Chelsea Piers is a popular location not just for team outings, but for group activities of all sorts. You can easily spend two or three hours at the space, and there are food and drink options which means you can get your entertainment and sustenance taken care of in one place. If you are looking for a new or novel activity, than it may be better to consider one of the other options.
Learn More: Chelsea Piers
#8 Team Bonding
Team Bonding is a main stay in the team building industry and has run thousands of events over the decades. Team Bonding has many options for different types of events, some of which include food. You should be able to find an event that is a good match for your team, whether it's sports based, charitable, puzzle solving and more. Team Bonding has worked with many large companies.
Learn More: Team Bonding
#9 Dave & Buster's
Dave & Buster's is a well known arcade and food venue near Times Square. It is a loud and lively space, so can be a good place for your corporate event if you are looking for that vibe. In addition, the arcade provides a built in way for your team to do team building throughout the event. Team members can play arcade games together collaboratively or competitively, which matches various personality types. Finally, there is a wide selection of food so everyone on your team should be able to find something they like.
Learn More: Dave & Buster's
#10 ScavBoss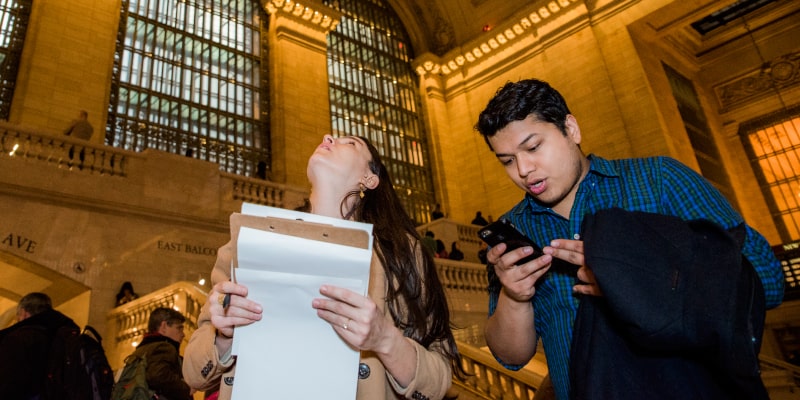 ScavBoss is a scavenger hunt, but not like any other scavenger hunt you've ever experienced. These hunts are challenging and fast-paced, but also social and collaborative. Your team will have a blast exploring amazing locations in NYC like Grand Central Terminal, FiDi, the High Line and more; giving them new perspective on this awesome city. Scavboss is specifically designed as a team building activity, which means there are elements of the hunt that will have your people communicating, collaborating, taking photos together, and above all developing meaningful friendships. Someone once said, "teams that play together, stay together" and ScavBoss is a GREAT example of this.
Learn More: ScavBoss
#11 Team Building Hero
Team Building Hero offers a bunch of the best team building activities in NYC. Think scavenger hunts, storytelling workshops, speakeasy bar tours, museum tours, zoo tours, food competitions, fun games, and company holiday parties. All of Team Building Hero's corporate events are unique enough to stand on their own and keep employees engaged; this makes it a great choice to use as your sole provider of team outings for the year. Bonus: If you book an entire year's worth of company team building activities with Team Building Hero, you'll get a discount on the already reasonable prices.
Learn More: Team Building Hero
#12 ScatterHunts™
Another awesome scavenger hunt option, ScatterHunts is the wildest hunt NYC has to offer. More of an "amazing race" style experience than a scavenger hunt, your employees will face a series of challenges meant to build comradely, resilience and decision making skills. The basic event is two hours, but you can extend the experience up to a full day (or even longer) if you like. And the event can be completely customized to your organization's mission, theme, values, industry and more. It's a blast, and 100% guaranteed for effective team building.
Learn More: ScatterHunts
#13 Lucky Strike Bowling
Most people have gone bowling either with family or friends, so if you do this is a team building activity then it will be familiar for many of your employees. Bowling is a fun, competitive sport that you can do either as an individual event or in a "league" format over months or even years. You could challenge another department to a bowling game or two. Lucky Strike has food and drink options which makes it easy to plan an event there.
Learn More: Lucky Strike Bowling
#14 Brooklyn Zoo
Another great option for team building is to plan your own event, and a great place for your team outing is the zoo! Brooklyn Zoo is an awesome zoo with a great collection of animals. We recommend studying up on some of what makes these animals so interesting so you can run your own mini tour of the space. In addition to the tour, you could plan a picnic or snacks for your event.
Learn More: Brooklyn Zoo
#15 Escape Entertainment
Escape rooms have some challenges as a team building activity, for example one or two members solving the puzzles while others watch. However, escape rooms remain a popular option for corporate events; perhaps because they are often challenging and can allow team members to work together. Escape Entertainment specializes in escape experiences, and if you and your team are into escape rooms they could be a great option to facilitate your next event.
Learn More: Escape Entertainment
#16 The High Line
The High Line is a popular outdoor location in NYC, and may be a good spot for you to run your next self-facilitated team building activity. You could plan a scavenger hunt along the High Line, an "amazing race" style event, a picnic or more. If you do a scavenger hunt, one idea is to have the final clue end the hunt at a restaurant or pub nearby — your team will be hungry by the end!
Learn More: The High Line
#17 Central Park
Easily one of the best event venues in the city, planning your next team outing to Central Park can make it a big success. Like some of the other outdoor spaces, Central Park lends itself well to scavenger hunts, amazing races and picnics. If you do a picnic, bring along some sports balls, frisbees and playing cards; on a nice day your team will enjoy the outdoor activities.
Learn More: Central Park
#18 Online Office Games
Looking for something fun to do with your remote team members? TeamBuilding.com's remote Online Office Games is a great choice for virtual team building activities that are fun, effective, and led by a seasoned pro who knows how to keep the energy high, the pace fast, and the fun coming. Online Office Games offers a series of mini activities designed to promote bonding, collaboration, and communication. Sample activities include yoga, pixel art competitions, typing challenges, photo challenges, virtual scavenger hunts, and more.
Learn More: Online Office Games – Virtual Team Building
#19 Court 16
Chances are that among your employee group are at least a few die-hard tennis players and fans. Court 16 transforms that traditional tennis experience into a fun, interactive team building activity. You can host a showdown between departments or offices, in a way that feels fun and collaborative while remaining competitive. Court 16 could be a good option for sportier and active offices that want to get out and sweat together.
Learn More: Court 16
#20 Zoo Hack
Zoo Hack is an entirely new team building activity by Museum Hack, with some familiar elements of style and finesse. It's not just being at the zoo that makes this event different, the team has developed unique content about the animals, their habitats, and the zoo itself — plus new games and activities that make the event super fun. You'll learn about the existential crisis of zoos, the truth behind conservation myths and reality and more. Basically, if your team loved Museum Hack then they are going to love Zoo Hack too.
Learn More: Zoo Hack
#21 Sidewalk Food Tours
Sidewalk Food Tours is exactly what it sounds like, a chance for your team to walk around the city they love, trying new food items along the way. The Sidewalk Food Tours team knows the best spots to try savory delicacies and if you like you can add drinks as well. In addition to the dining portion, your team will learn about some of the awesome food they are tasting.
Learn More: Sidewalk Food Tours
#22 Ahoy New York Tours & Tasting
Another tour for foodies, Ahoy offers a fun, informative and tasty tour through NY neighborhoods. Your team can try some new appetizers and desserts, and bond as a team while doing so. Ahoy has five star reviews on platforms like TripAdvisor, so it could be a great option for your next team outing.
Learn More: Ahoy New York Tours & Tasting
#23 Komnata Quest
Komnata Quest is an international company that seems to be based in Russia. Komnata offers escape room experience in Europe and the US, including NYC. Escape Rooms can be quite challenging, and are generally better to complete as a team; so work as a team building activity. One thing to be mindful of is that like scavenger hunts, escape rooms can be dominated by one or two team members while the others end up watching. Try coaching your team before the event to make sure that everyone gets a chance to participate. You can also assign roles to team members in each group, like "timekeeper" and "cheerleader." The cheerleader, for example, would be responsible for keeping spirits high throughout the event.
Learn More: Komnata Quest
#24 Pizza School NYC
NYC is famous for a lot of things, and chief among them is pizza! Take your team out for the afternoon to learn how to spin dough into one of this city's most well known treats. Pizza School NYC is one of our top fun activities for adults — and it's as great for team building as it is for an evening out with friends. When you book the school's pizza workshop, your group will learn the secrets to making an incredible pie, eat their own creations, and enjoy a festive reception that can come complete with beer, wine, and specialty sodas. With Pizza School NYC, your coworkers will relax as they're treated to a fun, hands-on activity that requires them to work together, learn a new skill, and come together to bond over one of our favorite past-times: food!
Learn More: Pizza School
#25 Sea The City
Sea The City is all about bringing people together over a new, unexpected and shared experience. Plus, it's a fun and exhilarating adventure; the event has all the right ingredients for a fun company team building activity. Your group will meet with Sea The City's well-qualified jet ski instructors who are prepped to get even folks who've never sat on a jet ski before ready to explore the city's waterways. You'll cruise around the Hudson River while taking in views of New York City that not everyone gets to see. It's fun, it's unique, and it's memorable. Your coworkers may be talking about this company outing for months to come.
Learn More: Sea The City
#26 The Great Gotham Challenge
Are you ready to complete the biggest puzzle you've ever taken on with your teammates? The Great Gotham Challenge is a giant puzzle adventure that makes for fun team building in NYC. The company's innovative, hands-on puzzle takes place on the streets of NYC and pits your team members against each other and the clock as they hustle through the city to uncover clues designed to teach them more about the incredible city many of them call home. All clues need to be decoded by players and their teammates as the clock ticks down around them. The Great Gotham Challenge is meant to teach your coworkers about each other and NYC. You'll tap into your team's competitive nature and stoke the productive flames of creativity, problem-solving, and critical thinking, all while having an awesome time learning more about the Big Apple.
Learn More: The Great Gotham Challenge
#27 Super Holiday Party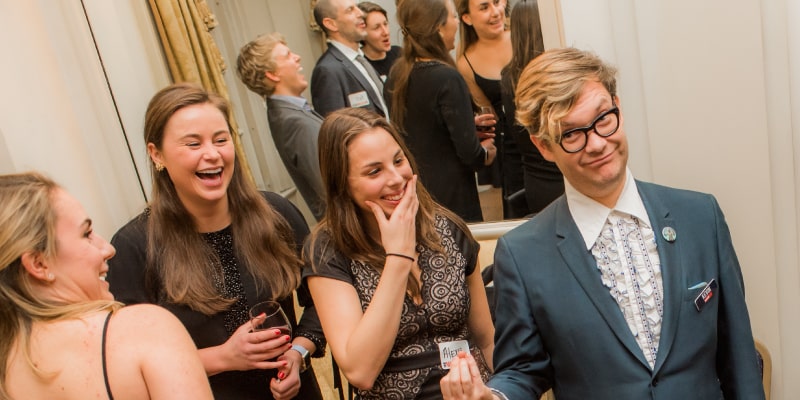 Super Holiday Party is mashup of mini-challenges, connection games and cocktail party elements. You can host your event either as a company team building activity or as your actual holiday party; it works for both! Even though there is a strong Christmas theme going on, the holiday party is not about Christmas, Hanukkah or any other specific holiday. Instead, it's just a celebration of bringing people together and all the values and positive vibes we want for an event like this. Some food items are included, and so are prizes. You can add-on catering, BYOB, cookies, and other items to really make the party a perfect match for your group.
Learn More: Super Holiday Party
#28 Throwback Fitness
Looking for an unconventional team building activity in NYC? Why not hit the gym with your coworkers? We're not suggesting you lace up your sneakers and hit the treadmill (although that could be awesome for team building, too!), but we do love what Throwback Fitness has to offer. Let's face it: most of us are fairly sedentary at work and fitting in time for exercise can be challenging. At Throwback Fitness, you and your coworkers can participate in fun old school games that also help you get in an incredible workout that'll get the blood pumping, adrenaline flowing, and creativity roaring. Throwback Fitness' menu of team building games include dodgeball, tug of war, and a full-fledged field day that's worthy of challenging your middle school gym class memories. It's fun, it's retro, and it's totally team building.
Learn More: Throwback Fitness
#29 The Leader's Institute
Mix your company team building activity with giving back to your community with The Leader's Institute's corporate team building with charity work program. Your team will come together, develop new skills, bond, and give their time to an incredible local cause. The Leader's Institute is best known for their program that builds new bicycles to donate to children, but there are other team building activities available, including building teddy bears for children in need, working with a food bank, or building a custom golf course with non-perishable food items that will ultimately be donated to a local cause. It's team building that will have your group working together, problem solving, and thinking creatively, all while functioning as a united front for a wonderful cause.
Learn More: The Leader's Institute
#30 Circle Line Sightseeing Cruises
Gather your team for an afternoon of enjoying New York City like a tourist. Circle Line will take you and your group anywhere from checking out the landmarks to sailing to the Statue of Liberty to viewing the beautiful Harbor Lights to a guided sail highlighting the best NYC has to offer. You can reserve your own boat complete with Circle Line's incredible catering menu for a full event outside the outside that will allow your team to relax, unwind, and check out the city many of them call home in a new, unexpected way. One of the best methods for coming together as a group is to enjoy an experience together, and Circle Line checks all of those boxes for a unique company team building event that will relax and recharge your team, leaving your coworkers refreshed and ready to return to the office.
Learn More: Circle Line
#31 Eight Is Never Enough (aka, improv!)
It's time for your group to dust off their creative skills and cut loose with Eight Is Never Enough, a company team building program that focuses on improv! Improv has a wide range of corporate benefits, and Eight Is Never Enough's workshops provide a deep dive into developing business communication skills. What your team learns in improv has direct application to real-world corporate life. You'll participate in improv and theater games designed to increase self-confidence, creativity, critical thinking, and problem solving skills. Eight Is Never Enough notes their workshops have a direct impact on boosting sales performance, communication skills, leadership, customer service, management, team work, collaboration, troubleshooting, and more — and it's all done in a fun, relaxed environment that will allow new sides of your coworkers' personalities to shine through!
Learn More: Eight Is Never Enough
#32 Host A Meetup
Team building doesn't have to be solely about your team. Why not extend the event to your company's partners, clients, suppliers, and family and friends? Host a Meetup to allow those in your business' network to interact and connect with each other. Think of fun activities like a BBQ, picnic, or Field Day to help promote mingling and connections. It's a great way to show those who invest in your company that you value and appreciate them. Treat these folks to a great afternoon of bonding, fun, and laughs, all with the added benefit of encouraging new networking opportunities that your own contacts may be wildly grateful for. You never know who you may meet at one of these events — and your team will enjoy an afternoon outside the office!
Frequently Asked Questions
The following are some common questions we get about team building in NYC. Send us a quick email if you have any additional questions!
Which team building activity in NYC is best?
Museum Hack is often cited as the best team building activity in NYC with 5400+ five star reviews. The company leads unconventional museum tours that are a lot of fun!
What is the difference between team building, team bonding, and company outings?
To some degree you can use these words interchangeable, however there are some nuanced differences. For example, team building specifically has a purpose like improving communication and work dynamics between colleagues. Team bonding, in comparison, is usually about having fun or rewarding employees. Company outings just means leaving the office to do a team building activity or get dinner together or similar.
Can you list more team building companies on your list?
Yes! We generally update our list of team building companies two or three times each year. Our goal is to include a diverse range of companies, spanning options that include food, scavenger hunts, competitive elements and other factors. Important: we do not accept paid listings anywhere on our site.