#1 Museum Hack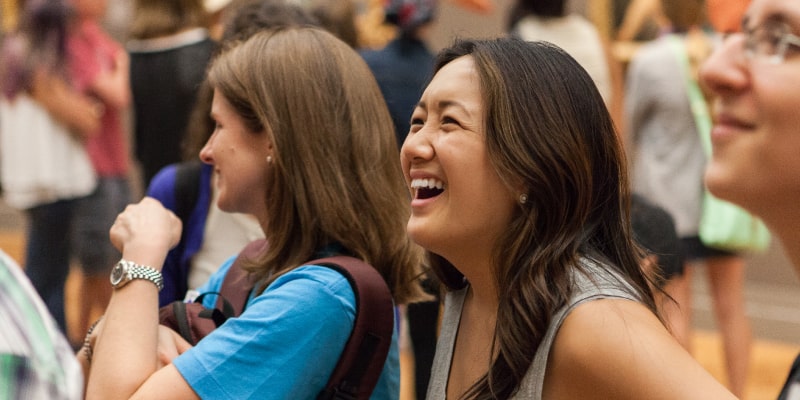 If your team hasn't done a "Museum Hack" yet, then you are missing out. The company does a unique combination of unconventional storytelling with games and activities that are built for team building. It's fun, wicked-smart and the perfect balance of helping improve your team dynamics without feeling forced. Museum Hack is best known for it's "Renegade Tour" format, and also offers scavenger hunts, storytelling workshops and an Escape the Museum experience. Events are available at museums throughout the city, and work for all group sizes and age demographics. Happy Museum Hack clients include Google, Facebook, KPMG, LEGO, Johnson & Johnson, Chipotle and more.
Learn More: Museum Hack
#2 Zoo Hack
Zoo Hack is an entirely new team building activity by Museum Hack, with some familiar elements of style and finesse. It's not just being at the zoo that makes this event different, the team has developed unique content about the animals, their habitats, and the zoo itself — plus new games and activities that make the event super fun. You'll learn about the existential crisis of zoos, the truth behind conservation myths and reality and more. Basically, if your team loved Museum Hack then they are going to love Zoo Hack too.
Learn More: Zoo Hack
#3 The Great Guac Off™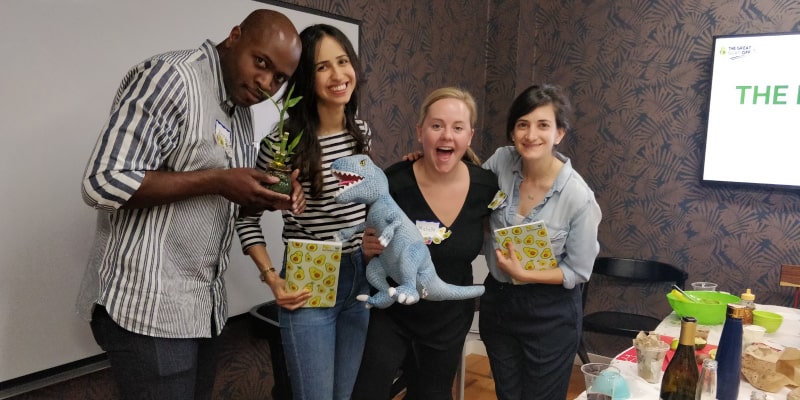 The Great Guac Off is a playful and FUN team building activity based on a guacamole making competition. Your event starts off with mini games like Punacado and avocado themed trivia, and culminates with the competition. All the guac ingredients, chips and veggies are included, so it's a great option if you want to include food at your event. You can also do add-ons like full catering, drinks, swag bags, trophies and more. One of the best things about the Guac Off is the flexibility of location. The team can come to your office or other space anywhere in the city at no additional cost, or you can visit a Guac Off location near your office (they have spots around the city). Highly recommended for both small and large groups!
Learn More: The Great Guac Off™
#4 Chelsea Piers
If you are looking for classic team building activities, like bowling and other sports than Chelsea Piers may be a great option for your next corporate event. Chelsea Piers is a popular location not just for team outings, but for group activities of all sorts. You can easily spend two or three hours at the space, and there are food and drink options which means you can get your entertainment and sustenance taken care of in one place. If you are looking for a new or novel activity, than it may be better to consider one of the other options.
Learn More: Chelsea Piers
#5 Team Bonding
Team Bonding is a main stay in the team building industry and has run thousands of events over the decades. Team Bonding has many options for different types of events, some of which include food. You should be able to find an event that is a good match for your team, whether it's sports based, charitable, puzzle solving and more. Team Bonding has worked with many large companies.
Learn More: Team Bonding
#6 Dave & Buster's
Dave & Buster's is a well known arcade and food venue near Times Square. It is a loud and lively space, so can be a good place for your corporate event if you are looking for that vibe. In addition, the arcade provides a built in way for your team to do team building throughout the event. Team members can play arcade games together collaboratively or competitively, which matches various personality types. Finally, there is a wide selection of food so everyone on your team should be able to find something they like.
Learn More: Dave & Buster's
#7 ScavBoss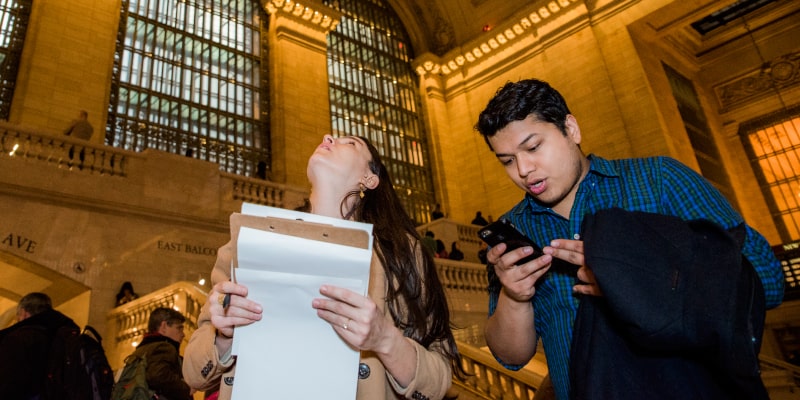 ScavBoss is a scavenger hunt, but not like any other scavenger hunt you've ever experienced. These hunts are challenging and fast-paced, but also social and collaborative. Your team will have a blast exploring amazing locations in NYC like Grand Central Terminal, FiDi, the High Line and more; giving them new perspective on this awesome city. Scavboss is specifically designed as a team building activity, which means there are elements of the hunt that will have your people communicating, collaborating, taking photos together, and above all developing meaningful friendships. Someone once said, "teams that play together, stay together" and ScavBoss is a GREAT example of this.
Learn More: ScavBoss
#8 ScatterHunts™
Another awesome scavenger hunt option, ScatterHunts is the wildest hunt NYC has to offer. More of an "amazing race" style experience than a scavenger hunt, your employees will face a series of challenges meant to build comradely, resilience and decision making skills. The basic event is two hours, but you can extend the experience up to a full day (or even longer) if you like. And the event can be completely customized to your organization's mission, theme, values, industry and more. It's a blast, and 100% guaranteed for effective team building.
Learn More: ScatterHunts
#9 Lucky Strike Bowling
Most people have gone bowling either with family or friends, so if you do this is a team building activity then it will be familiar for many of your employees. Bowling is a fun, competitive sport that you can do either as an individual event or in a "league" format over months or even years. You could challenge another department to a bowling game or two. Lucky Strike has food and drink options which makes it easy to plan an event there.
Learn More: Lucky Strike Bowling
#10 Brooklyn Zoo
Another great option for team building is to plan your own event, and a great place for your team outing is the zoo! Brooklyn Zoo is an awesome zoo with a great collection of animals. We recommend studying up on some of what makes these animals so interesting so you can run your own mini tour of the space. In addition to the tour, you could plan a picnic or snacks for your event.
Learn More: Brooklyn Zoo
#11 Escape Entertainment
Escape rooms have some challenges as a team building activity, for example one or two members solving the puzzles while others watch. However, escape rooms remain a popular option for corporate events; perhaps because they are often challenging and can allow team members to work together. Escape Entertainment specializes in escape experiences, and if you and your team are into escape rooms they could be a great option to facilitate your next event.
Learn More: Escape Entertainment